GREATER INCLUSIVITY
Take an INTERVIEWER EXPERIENCE Test Drive to see the future
46% of all new hires FAIL within the first 18 months due to the misalignment of skills, attitudes, or objectives with the roles they are asked to fulfill.
Diversity hiring initiatives have been in place for years, so why aren't goals being met?
Ineffective interviewing and selection techniques magnify the misalignment while perpetuating ingrained biases.
Interviewer bias about an applicant's skills, knowledge, and ability starts within the first 20 seconds

49% of interviewers think they know "fit" with their organization in less than 5 minutes

95% of hiring managers receive less than 1 hour per year of interview training
Unstructured.  Biased.  Ineffective.
Instead of a 'training class,' gain experience with an interactive simulation.
The INTERVIEWER EXPERIENCE from APTMetrics offers a unique, immersive approach to learning structured interviewing techniques that puts a participant into a real-life business case where there is an urgent need to fill a critical position on their team.
Two distinct versions of the INTERVIEWER EXPERIENCE are available which focus on the specific situations and needs of different job levels:
Officer version

Manager version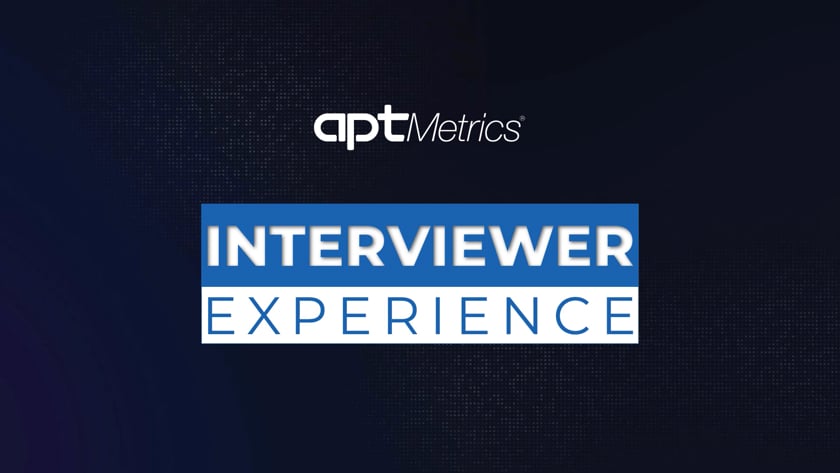 Experience it yourself. Take a complimentary Test Drive.
Organizations may have a complimentary license, valid for 30 days, to evaluate the complete Interviewer Experience. Test Drives for both the Manager and Officer versions of the Interviewer Experience are available.
Try it yourself.
Comments from participants
The method of a role playing training approach utilizing, videos, reading and other mediums really made this an engaging program!
I am impressed with this entire experience. This is what learning should feel like.
I provided some incorrect responses to review how they would respond.  I thought the feedback in the incorrect responses were incredibly beneficial and detailed.
The best behavior-based interviewer program I've seen!
I thought the simulation was good. It was engaging and constantly kept the trainee on their toes.